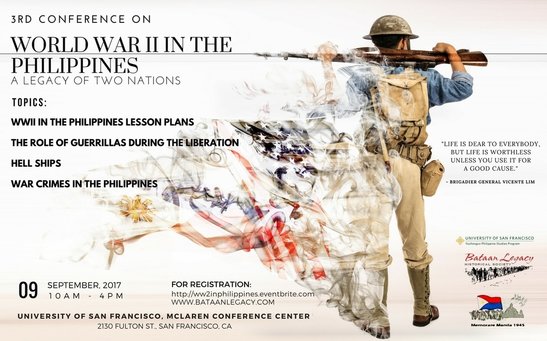 THANK YOU TO OUR WWII IN THE PHILIPPINES CONFERENCE SPONSORS

Consuelo Hall-McHugh & Family

REMEMBER MANILA SPONSOR
Mona Lisa Yuchengco

COURAGE & VALOR SPONSORS
Gareth & Ruth Hill
Richard Bertero

FRIENDS OF BATAAN
Naval Order of the United States
Carrick C. McLaughlin
Mary Louise Myers

CORPORATE SPONSOR
Philippine Airlines
​
---

SUPPORT BATAAN LEGACY HISTORICAL SOCIETy
a 501(c)(3) organization
(FEDERAL TAX ID 46-5373351)
Please send your checks to Bataan legacy historical society, 2864 shasta road, berkeley, ca 94708-2047
aLL cONTRIBUTIONS ARE TAX DEDUCTIBLE
SUPPORT BATAAN LEGACY WHEN YOU SHOP AT AMAZON.

​HISTORY WAS MADE ON JULY 14, 2016. THE CALIFORNIA STATE BOARD OF EDUCATION APPROVED INCLUSION OF WWII IN THE PHILIPPINES IN THE U.S. HISTORY CURRICULUM FRAMEWORK FOR GRADE 11 (CHAPTER 16). THIS WILL BE THE FIRST TIME THAT HIGH SCHOOL STUDENTS IN THE UNITED STATES WILL LEARN OF THE GREAT SACRIFICES MADE BY FILIPINO AND AMERICAN SOLDIERS, CIVILIANS AND THE ENTIRE PHILIPPINE NATION DURING WWII. HELP US MAKE THIS FILM WHICH WILL BE USED AS A TOOL TO TEACH THOUSANDS OF STUDENTS IN THE UNITED STATES AND THE PHILIPPINES AND HOPEFULLY THROUGHOUT THE WORLD.

LET US ALL JOIN HANDS TO MAKE THIS HAPPEN NOW!




watch videos of our 2nd annual conference on wwii in the phiippines (October 29, 2016 in
​san francisco)


​CONGRESSIONAL GOLD MEDAL FOR
WWII FILIPINO VETERANS

The Congressional Gold Medal for WWII Filipino Veterans was signed into law by President Obama on December 14, 2016. The

Filipino Veterans Recognition and Education Project

, which spearheaded this project, is maintaining a national registry of all eligible veterans and their closest surviving relatives. Please go to

CGM Registry to fill out application

.


The Men & Women behind the legacy
(more pictures & info to Come)